Reinsurance giant Munich Re has nearly reached its full-year profit target for 2018 after the first nine months of the year, however its Q3 results were hit by catastrophe losses and profitability was boosted by reserve releases during the period.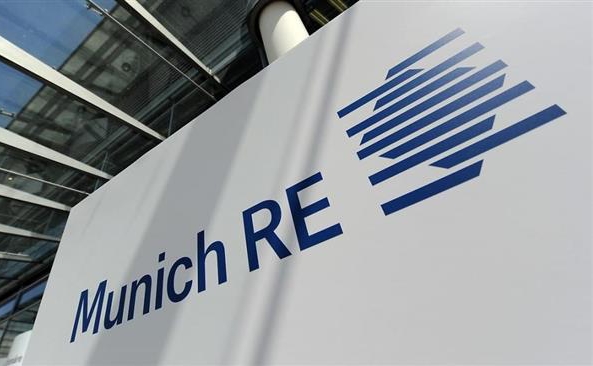 Munich Re has reported profit of €2,038m for the first nine months of 2018, which means it is closing fast on its profit target of €2.1–2.5bn.
Driving this has been an enlarged portfolio of underwriting throughout 2018 and the third-quarter followed the recent trend, with significant growth in property and casualty reinsurance premiums underwritten.
The reinsurer could be on track to smash its targets for the full-year, should major loss activity remain benign for the rest of the fourth-quarter.
Commenting on the Q£ 2018 result, Jörg Schneider, Chief Financial Officer said, "This good Q3 result puts us on track to achieve our profit target for 2018 – despite a series of major natural catastrophes still continuing in the fourth quarter. The benefits of first-class primary insurance and reinsurance cover become apparent in times of climate change and growing economic risks."
Munich Re's result was hit by high catastrophe losses, in particular from hurricane Florence and typhoon Jebi which drove close to EUR 600 million of losses between them.
But despite the high levels of catastrophe activity in recent quarters, the firm has continued its growth spurt in property and casualty reinsurance, reporting strong growth of 22% in terms of premium volume for Q3.
Munich Re's operating result increased to €1,040m (compared to Q3 2017's –€1,732m) year on year, while across the firm gross premiums written increased by 4.2% to €12,790m (up from €12,279m).
Annualised return on risk-adjusted capital (RORAC) reached 7.7% in Q3, and the return on overall equity (RoE) reached 7.2%. For the first nine months, the annualised return on risk-adjusted capital (RORAC) was 10.8%, and the return on overall equity (RoE) was 9.9%.
The reinsurance business provided €309m to Munich Re's consolidated result in Q3, with an operating result of €589m. Gross premiums written across reinsurance rose by 6.2% to €8,566m (8,065m), although this was largely driven by 22% growth in property-casualty reinsurance that offset a 16% decline in gross premiums in life and health reinsurance during the period.
Despite the shrinking of life and health reinsurance premiums, this unit delivered a year-on-year increase in profit to €159m.
The Munich Re life and health reinsurance business was negatively hit by a high individual loss in Canada, and a first transaction forming part of the sale of Ellipse, its specialist provider of group life risk protection in the UK.
Munich Re's property-casualty reinsurance activities contributed €151m to profits in Q3.
Premium volume rose significantly to €5,761m (up 22% from the prior year's €4,743m), which the firm said was down to organic growth. However, the P&C reinsurance combined ratio reflected an underwriting loss at 100.7% of net earned premiums. But for the year so far at 97.3% the combined ratio is on course to reach the target 97% for the year as a whole.
Major losses of over €10m each reached €599m for Q3, including run-off profits and losses for major claims from previous years, which is equivalent to 12.5% of net earned premiums for Q3 and 9.3% for Q1 to Q3 of 2018.
Man-made major loss activity resulted in a hit of €94m, while natural catastrophes drove losses of €505m.
Also of note is the fact that Munich Re is expected to suffer losses from Hurricane Michael and Typhoon Trami amounting to roughly €350m for Q4.
However, the profit contribution of €151m from P&C reinsurance would have been negative were it not for reserve releases, as Munich Re showed its conservatism and was able to benefit from around €190m of releases during the period, equivalent to roughly 4% on the combined ratio.
Hence, the P&C reinsurance unit could have delivered negative profit for the third-quarter of 2018, but the reinsurers reserving practices have again enabled it to turn that around.
Munich Re's Ergo primary insurance unit also profited during the quarter, delivering €173m in Q3, and €359m for the first nine months, both much higher than the prior year. As a result the firm has raised its profit target for Ergo, but also noted that the Q3 result was positively affected by a change in assumptions on profit appropriation, while some segments of Ergo, notably Germany P&C, still struggled.
The reinsurers investment portfolio delivered a 2.3% yield in the period, amounting to investment income of €1,311m (down from the prior year's €1,589m) in Q3.
Looking ahead, Munich Re expects to hit the upper end of its property and casualty reinsurance premium growth target for the year, at roughly €31bn, previously this had been a range of €29-31bn.
Aside from that, the reinsurer believes it is still on target and maintains its profit forecast of €2.1–2.5bn, with the lower-end of that range already in sight after a profitable first three-quarters of this year.