Energy supplier Pacific Gas & Electric Co. (PG&E) has announced that it intends to file for bankruptcy protection due to the potential $30 billion of California wildfire costs that it faces liability for.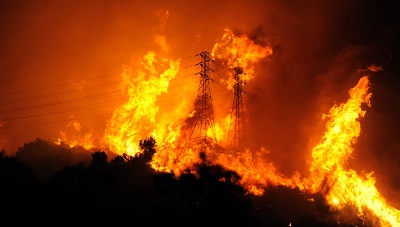 The announcement follows a series of lawsuits from insurers including Allstate, State Farm and USAA concerning damages from the Camp Wildfire, which devastated California's Butte County in November.
PG&E announced on Sunday that its Chief Executive, Geisha Williams, was stepping down, after which the company's stock plummeted by more than 50%.
There had been some speculation that the company may have been bluffing about its immanent bankruptcy in order to secure aid from California authorities, but sources now indicate that such doubts are unfounded.
PG&E power lines have come under scrutiny as a potential cause for the Camp Wildfire, which became the deadliest and most destructive wildfire in California's history after burning through 153,336 acres, destroying 18,793 structures, and killing 86 people.
If it is determined that PG&E equipment was the cause of the fire, under California law the company will assume full financial liability for all damages.
Estimates from catastrophe modeller RMS suggest that re/insured losses resulting from the Camp Wildfire could be between $7.5 billion and $10 billion, while AIR Worldwide put industry losses at between $6 billion and $9 billion.
PG&E equipment has also been found liable in at least 17 major wildfires in 2017. California lawmakers refused to change the legal standard or reduce PG&E's liability following the 2017 wildfires, although they allowed to the company to pass on costs to its customers in order to spare it from bankruptcy.
The company previously entered bankruptcy in 2001 following a drought that limited hydroelectric energy production in California.
PG&E explained that it plans to file petitions to reorganise under Chapter 11 of the U.S Bankruptcy Code by January 29.
It added that it does not expect any impact to service for its 16 million customers during this process.
If PG&E is found liable for damages from the Camp Wildfire, it may alleviate losses for some re/insurers, but many companies will continue to face exposure via PG&E's approximately $1.4 billion re/insurance program, which includes its $200 million Cal Phoenix Re Ltd. (Series 2018-1) catastrophe bond.
A.M. Best has also suggested that many re/insurers may have additional avenues of exposure to PG&E's volatility due to the fact that the industry holds between roughly one fifth to one quarter of the company's debt, or about $4.1 billion.