The Thomas Fire, which impacted Southern California's Ventura and Santa Barbara counties in December 2017, started as a result of high winds causing power lines to come into contact, according to the Ventura County Fire Department (VCFD).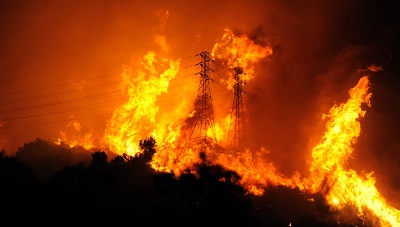 In total, the Thomas Fire burned 281,893 acres; destroyed 1,063 structures, and claimed the life of one civilian and one firefighter. The Thomas fire started in early December 2017 and wasn't declared 100% under control until January 12th, 2018.
More than a year later and the VCFD has said that, after a thorough investigation, it has determined a "line slap" caused the fire.
The department states that a high wind event caused power lines to touch, creating an electrical arc, which, deposited hot, burning or molten material onto the ground, in a receptive fuel bed, causing the fire. This situation is known as a "line slap," explains the VCFD.
According to the VCFD, the power line in question is owned by Southern California Edison, a U.S. electric utilities company and part of Edison International.
In response to the VCFD's admission that one of its power lines is responsible for starting the fire, Southern California Edison (SCE) has said that there is evidence which shows there were at least two ignitions that led to the Thomas Fire, one in the Anlauf Canyon area of Ventura County and another near Koenigstein Road in the city of Santa Paula.
The SCE has previously disclosed that its equipment "appears to have been associated" with the ignition near Koenigstein Road.
However, based on currently available information, SCE says it has not been able to tell whether its equipment caused the ignition of the Anlauf Canyon area fire, which SCE says started 12 minutes prior to any issue involving its system and at least 15 minutes before the start time indicated by VCFD's report.
"SCE provided this evidence to CAL FIRE and VCFD investigators; however, the report does not suggest this evidence was considered. SCE believes the Anlauf Canyon ignition may have been independently responsible for a significant portion of the Thomas Fire damages. SCE also is not aware of any basis for criminal liability," explains the electric utilities company.
Despite the admission that SCE's equipment is in question, it's important to remember that so far, no one has been made liable for the Thomas Fire, and that the complexity of the event means it could be some time before the final outcome is determined.
SCE reportedly has $1 billion of insurance limit in place for wildfire liability for 2017 events. But again, it's important to remember that to date, SCE has not been held liable for the event.
Wildfire losses have been on the rise in recent years, and energy supplier PG&E recently acknowledged that it is "probable" that its equipment was responsible for igniting the Camp Wildfire that hit California in 2018.