Barney Schauble, Managing Principle at Nephila Advisors, has urged the re/insurance industry to utilise new products and data in tackling the risks posed by climate change, which he believes are not being adequately addressed.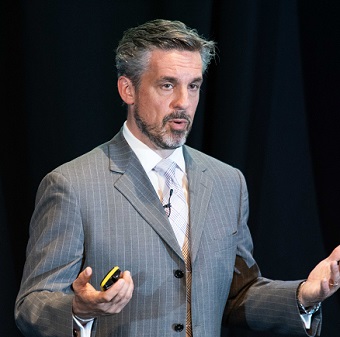 Speaking at the MMC Rising Professionals' Global Forum, Schauble argued that, with the success of the capital markets in taking on peak risks, it is time "to focuse on other ways to improve the risk transfer sector."
"As an investor, you now have a wide array of ways to think about how you would want to participate in the insurance market," Schauble told delegates at the Forum. "And they're thinking across that whole menu in terms of what gives them the best risk and return and transparency."
"If we can design new products or use new data to make better decisions, and not allow that risk to just default back to the government balance sheet here in the UK or the US or other places, not only do we build a more vibrant market with more opportunity, but that's a far more resilient economy than if we choose not to address those risks at all," he continued.
Schauble explained that Nephila has had a long history of partnering with technology start-ups such as The Climate Corporation, REsurety and WorldCover to offer new weather protection products to farmers and renewable energy companies among others.
"With renewable energy the bank will make a very conservative assumption about how much wind is going to blow," he said. "If we can take that risk, the bank doesn't have to worry about it and a lot more wind farms get built, which is obviously a desirable outcome."
Nephila's role in these partnerships is as a risk capital provider, Schauble added, meaning "they can focus on the operation and on the origination and they don't have to worry about holding capital against the risk."
Other companies are also providing the industry with information on the data side, using weather sensors and satellite imagery to provide more accurate forecasts than ever before.
Meanwhile, machine learning can help re/insurers to make sense of the huge volumes of data available, distilling it down into meaningful information that will enable the catastrophe protection market to benefit from better information.
"There's a lot of satellite imagery out there to help when we receive submissions that might include a hundred thousand houses," Schauber explained.
"It's impossible to find somebody who will sit there all day and type each address into Google Earth to tell us exactly what each house is made out of," he added. "But you can teach a machine to do that very easily."