Australian and global primary insurance and reinsurance group QBE said it has benefited from favourable terms and better pricing by getting to market early with its 2019 reinsurance renewal.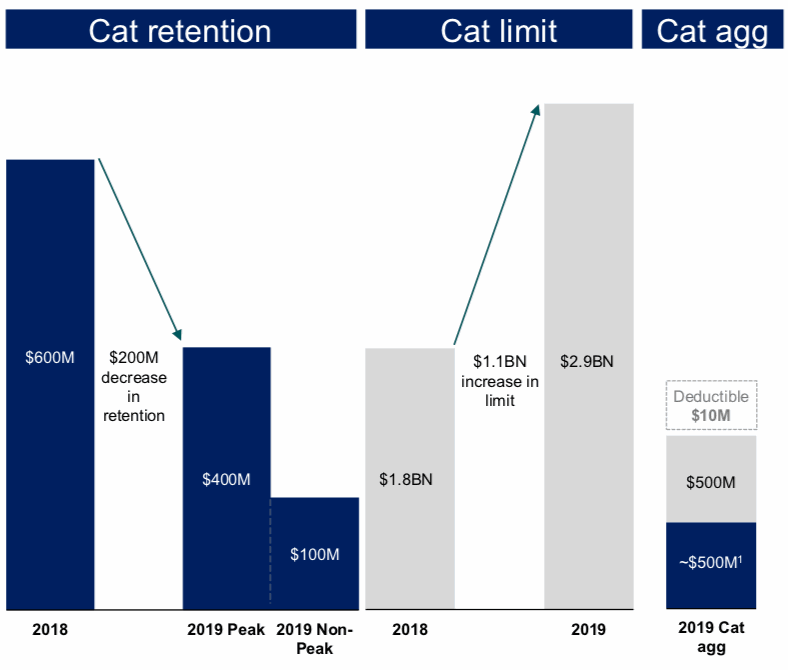 The insurer said that by hitting the market early it has been able to achieve lower pricing, avoiding any uptick in market pricing after the recent global catastrophe loss activity.
QBE has bought an additional $1.1 billion of catastrophe occurrence limit for 2019, as part of a restructured reinsurance buy which the firm said is now better suited to its more simplified portfolio and improved underwriting risk profile.
Along with reducing the catastrophe retentions, the much higher catastrophe protection achieved through higher limits purchased, QBE also has frequency protection through a catastrophe aggregate tower, lower retention for individual risk claims and second events, enhanced coverage from large individual risk claim severity, as well as enhanced quota share protection achieved through the firms Equator Re reinsurance captive.
The firm said the renewed 2019 reinsurance program "strikes an appropriate balance between cost, balance sheet protection, capital strength and earnings volatility."
However, analysts and media questioned the fact that QBE's catastrophe budget, for large individual risk and catastrophe claims, has been increased by $200 million to $1.4 billion.
QBE said that the reinsurance buy has saved it around $125 million in reinsurance costs and that despite the slight profit headwind created by the higher catastrophe budget, it feels the reinsurance will improve its attritional loss ratio and provide overall better protection.
The firm also noted "greater variability around reinsurance recoveries" but this is expected to even out over the course of a catastrophe year, with QBE expecting to be better protected overall.
The "more conventional" reinsurance structure purchased for 2019 is expected to "deliver better profit outcomes in extreme (severe or benign) catastrophe years as would have been the case in 2017 and 2015 respectively," QBE explained.
As an example, the insurer said that its 1 in 20 and 1 in 200 year probable maximum loss (PML) for Australian cyclones would drop by roughly 20% and 35% respectively, while its 1 in 20 and 1 in 200 year PML for North American hurricane would drop by 20% and 25% respectively, due to the newly renewed reinsurance program.
Positively, the new reinsurance structure is also better from a rating perspective, with both S&P and APRA capital ratios getting a "modest uplift" the insurer said.
The main benefits for QBE from this new reinsurance program appear to be the much lower probable maximum loss scenario outcomes, protecting it against the most major of catastrophe loss events, as well as reduced retentions across peak and non-peak perils, as well as large risk claims.
The 50% quota share enhancement that Equator Re will now have in place also provides further protection against severity losses, lowering the first event retention and the large risk retention.
Of course, Equator Re being a captive reinsurer means its retained share of losses under the quota share are a cost to QBE, but off its own balance-sheet and dealt with much more efficiently than if retained.
In 2018 Equator Re only ceded 40% of large losses to third-party reinsurers, but that has now been increased to 50% for 2019.
QBE called the renewal a "conventional out-of-the-money program with more variability around recoveries." But overall the protection is broad and for peak exposures the insurer will pass much more of its losses to its reinsurers and has significantly more limit to burn through before it exhausts its coverage.
But the main benefit for QBE this year may have come in hitting the market early with its renewal, enabling it to avoid the chance of pricing increasing due to the impacts of the recent wildfires and the capacity crunch that has emerged in some retrocession markets.