Details around the successful completion of Citizens Property Insurance Corporation's $1.45 billion 2019 reinsurance renewal reveals that Munich Reinsurance America, Validus Reinsurance, Nephila Capital, and D.E. Shaw Re led the placement.
After originally targeting a $1.6 billion reinsurance programme for the 2019 hurricane season, Citizens settled on a slightly smaller reinsurance tower at its 2019 renewal, as the Floridian insurer settled on less coverage in an effort to secure the best available pricing and terms.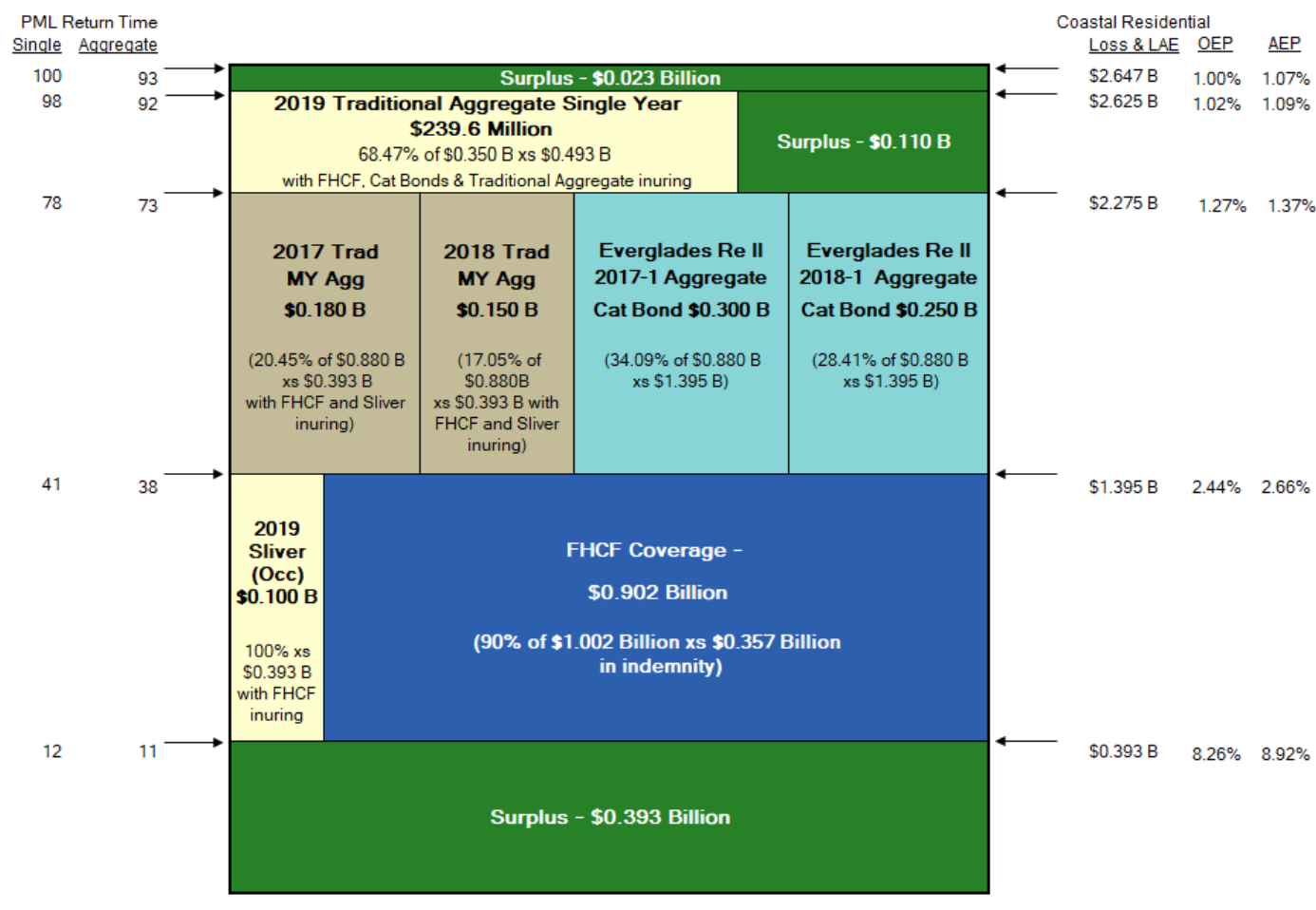 As shown by the above image of Citizens' personal residential and commercial residential reinsurance tower, the firm did secure an additional $100 million sliver of per-occurrence protection as planned, which sits alongside its 90% Florida Hurricane Catastrophe Fund (FHCF) participation.
32% of this sliver was provided by Bermudian reinsurer Validus Re, while over 21% of the reinsurance protection was secured from collateralised reinsurer, D.E. Shaw Re.
For its 2019 programme, Citizens also secured $239.6 million of traditional aggregate single-year protection, with only 68.47% of this $350 million layer being placed.
Within this layer, reinsurance giant Munich Re's U.S. division participated heavily, providing almost 18.5% of the single-year coverage. Validus Re also featured meaningfully in this layer, providing 9% of the coverage.
Sitting above the new sliver of per-occurrence protection and the FHCF participation is Citizens' catastrophe bond transactions and multi-year aggregate slices of protection secured in both 2017 and 2018. The catastrophe bonds, Everglades Re II Ltd. (Series 2017-1) and Everglades Re II Ltd. (Series 2018-1), provide the firm with a combined $550 million of Florida named storm protection.
Also new for 2019, Citizens secured $53.25 million of per-occurrence protection in its commercial non-residential tower. This layer was secured as a 25% placement of a $213 million layer, which the firm says was oversubscribed.
Data reveals that Nephila Capital, the world's largest investment manager specialising in catastrophe and weather insurance-linked securities (ILS) and reinsurance linked assets, had an almost 16% participation in this layer.
The final part of Citizens' 2019 placement concerns its purchase of traditional per-occurrence reinsurance protection for its personal lines account. For this layer, which partially wraps around its FHCF participation, Citizens secured $176.5 million of protection, with 88.25% of this $200 million layer being secured. Data shows that 50% of this layer was provided by collateralised reinsurer D.E. Shaw Re.
For Citizens' 2019 reinsurance renewal, Validus Reinsurance wrote a significant 19% ($170 million) of the placement, followed by D.E. Shaw Re's 14% ($121 million) participation, Munich Re's 13% ($113 million), and Nephila's 9% ($81 million). Overall, these four players wrote approximately 55% ($485 million) of Citizens' 2019 reinsurance placement, which the insurer has said cost significantly less than the $110 million of spend that its Board had approved.
It's worth noting that AlphaCat Re Ltd, which wrote approximately 3% ($30 million) of the reinsurance programme, is also a part of Validus Re.
Following the most recent renewal, Citizens' reinsurance programme is roughly $1.45 billion in size, which includes all the multi-year protection from traditional reinsurance and the catastrophe bonds that the insurer already had in-force.