Catastrophe loss data aggregator PERILS has disclosed its third loss estimate for windstorm Dragi-Eberhard, which, at €772 million is lower than the previous estimate of €798 million.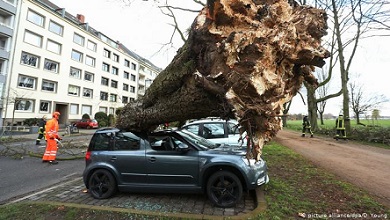 Dragi-Eberhard consisted of two low pressure systems that affected areas of the British Isles, and Western and Central Europe over the 9th and 10th of March, 2019. The event was the largest windstorm of the 2018/2019 European extratropical cyclone season.
PERILS notes that its third estimate of the insured property market loss for Dragi-Eberhard, at €772 million, is based on loss data collected from affected insurers.
As highlighted by PERILS, the majority of the losses occurred in Belgium, France, and Germany, while the UK, the Netherlands, Luxembourg and Switzerland were also hit, but to a much lesser degree.
In line with the firm's reporting schedule, PERILS will release an updated insured market loss from the event on the 9th of March, 2020, a year after the event start date.
Initially, PERILS announced a market loss estimate of €740 million for Dragi-Eberhard, followed by a higher €798 million estimate in June of this year. At €772 million, the latest estimate from PERILS is roughly 3.3% lower than the second estimate, and approximately 4.3% higher than its initial estimate.